Matasiete
Large, warm and peaceful place in the wild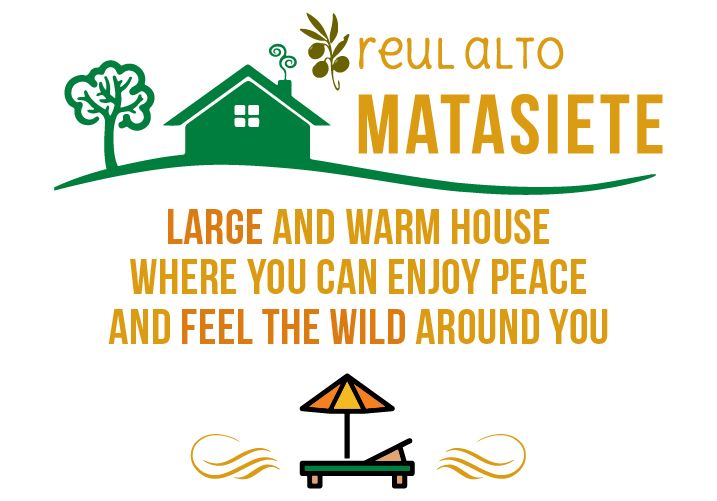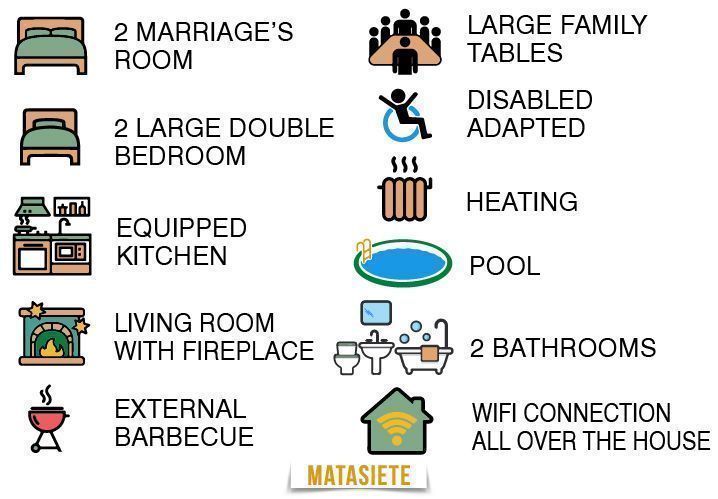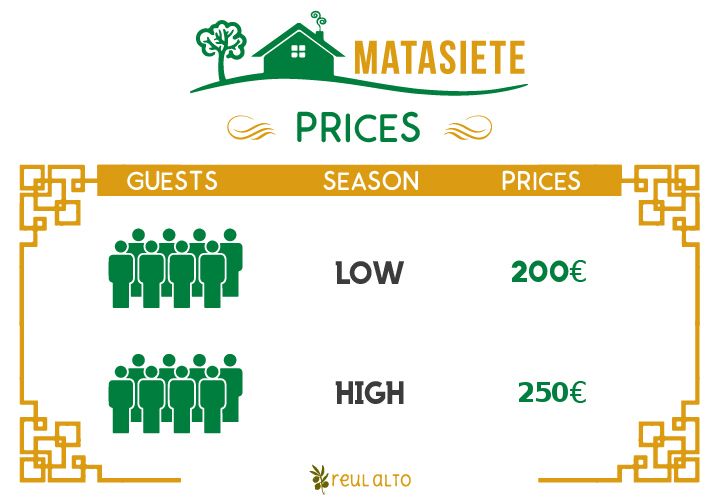 This large house will be ideal to accommodate all members of the family, since it is the most spacious house in the whole farmhouse.
It is located in a unique place, so you can feel nature even from inside.
And this large house is designed with views of the incredible landscape of the mountains that surround Reul Alto.
Its windows are oriented towards the mountain, the pool and the common area.
Wherever you look, you will only see serenity around you.
Do you need to enjoy a well-deserved rest with your friends or your family? Immerse yourself in an oasis of peace.
A great farm where everything fits, except your worries.
Do you want to know what Matasiete offers you?
– This spacious country house has a capacity of 8 people.
– It has 2 rooms with double beds.
– In addition to 2 large double bedrooms.
– The kitchen (fully equipped, with dishwasher and oven included); and the dining room, merge creating a large open space and joining the two rooms. A modern distribution that allows greater visibility and communication in the interior with a corner sofa for about 6 people.
– It has 2 bathrooms, newly renovated and ready for use.
– You can enjoy pleasant moments in the company of all your loved ones around the huge marble table that is located on the terrace of the farmhouse. The ideal place to spend a cool summer night.
– Take a revitalizing bath in the common pool.
– Or if you prefer, prepare a tasty barbecue.
– The house is equipped with heating, as well as all of our tourist complex, and also with fireplace, to combat the cold in the most rustic, efficient and air conditioned in the living room.
– Connect to the internet, we have wifi in all our homes
– House adapted for the disabled. *****
CHECK-IN FROM 17 HOURS
CHECK-OUT AT 15 HOURS
We want your comfort first, tell us the hours that most interest you and we will try to adapt to your needs.
Entry and exits at other times, contact us.
ALL OUR PRICES INCLUDE VAT. PRICES PER HOUSE AND DAY FOR MINIMUM STAY OF 2 NIGHTS.
COMMENTS FROM OUR CLIENTS
"Casa muy grande"
Una gran casa para ir varios amigos. Sin duda es lo que se espera cuando piensas en casas rurales, todo verde, todo montaña, todo de madera, chimenea, etc.. A tumbarse, a relajarse y si te apetece alguna actividad de montaña, como andar o coger palitos del suelo.
"Lujo rural"
Pude encontrar maximo confort en reulalto sin renunciar a la naturaleza. fui con mis hijos y lo pasamos genial. Tienen parque y todo lo necesario para que los niños disfruten. Tambien tengo un perro y mi decisión se basó en si este tipo de casas admitian mascotas. intentare repetir pronto. gracias.
Bikers allowed!!
Estuvimos en primavera 8 locos del BTT. Increibles caminos y rutas. Al ser Almería te aseguras casi todo el año que vas a tener buen clima y sol. Totalmente recomendado.
ojo curvas!!
Hasta que no llegamos arriba no sabia si disfrutaba o sufria. carretera de montaña y muchas curvas, no apto para miedicas al volante. Una vez arriba todo maravilloso. Gracias Ramon y Loli
Sobre nosotros
Dirección: Laroya (Almería) - Reul Alto
Móvil:  658 952 831
Email: 

[email protected]

Atención Telefónica: de 09 a 20:30
Reserva Ya
¿A qué estas esperando?